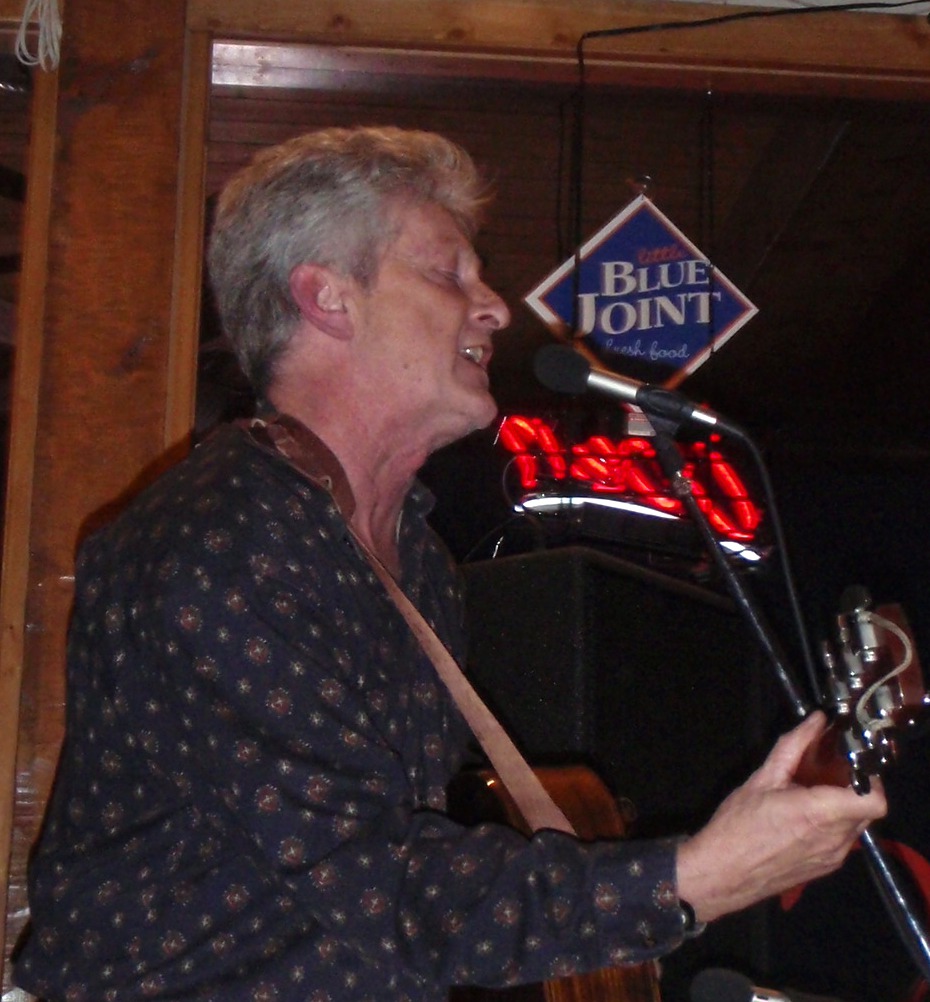 I'm a lifelong picker and off and on performer. I don't tour or play out much. Why do that when I have a world to improve, along with one of the best house concert venues a musician could ever want in a beautiful, comfy setting, and sometimes featuring famous touring musicians from all over the world!
Currently I'm working on Bioroot Energy, whose long-term success is my priority.  For the past dozen years I've made a living as a business and technology writer and web developer, working from home in the Bitterroot mountains of western Montana. But over the last four decades I've been a magazine editor, publisher, non-profit organizer, festival producer, recording engineer, concert promoter, touring performer, acoustic instrument retailer, guitar teacher, a ship's deckhand in the Gulf of Mexico, and I even had a summer-long stint as a yahoo cowboy stuntman in my spring-chicken days back in Gulfport, Mississippi at the long-gone 6 Flags over Mississippi. (My summer 1978 job was "Jailbreak" or taking a fake bullet from the faux sheriff and falling off the jailhouse roof—9 feet to the ground, 6 shows a day.)  Ouch!
The jail is over by the saloon just out of the frame on the left in this pic: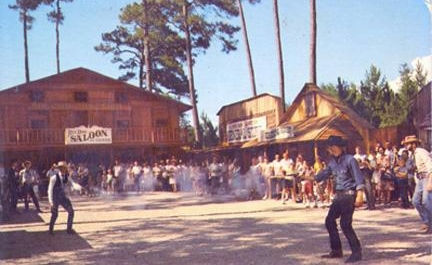 About that musical DNA. My first guitar lesson when I was 10 was a washout. My mother sent me hiking across the cotton fields (there used to be cotton fields anyway) of Millington, Tennessee with eight dollars to take a lesson from some "classical" guitar teacher she'd heard about from a neighbor. I took the lesson, threw my little plywood geetar into its case and headed back across those cottonfields for home. Straight into a gulley-washer rainstorm. So my early creative spark was a little damp.
But I've noodled away at guitars, instrumentals and singing and songwriting for 45 years.  Since 1980 I've performed in lots of settings. Concerts. Festivals. Stadiums. Arenas. Bars. Coffeehouses. Resorts. Restaurants. House Concerts. Weddings. Wakes. Company parties. Bar Mitzvahs. All over the US. On the streets and plazas of towns in Italy, Switzerland, Greece, Poland and Germany. Living in Italy and Greece in the 80s with the great Paul Stowe was one of the highlights. So was playing at The Painted Word, a coffeehouse in Salt Lake City, where I was a regular for a few years. (Thanks to Perry and Marie Shepard for the great support!)
From 85-93 I worked in a well known SLC music store called Acoustic Music, played lots of local gigs, and even made the news occasionally. I was also co-founder of The Intermountain Acoustic Music Association, dedicated to furthering and preserving acoustic and traditional music in Utah. I won the 1990 Telluride Bluegrass Festival "Fingerstyle Guitar" Competition. That same year, Salt Lake City's Private Eye Magazine Readers Poll chose me as Best Acoustic Guitarist.  I shared the stage with notables such as John Gorka, Pat Donohue, and Chuck Pyle. I even opened for the late Dr. Timothy Leary, who was on a multimedia tour.  So, a bit of local and regional musical notoriety ensued…at least among the Mormons, Jack Mormons, Atheists, Agnostics, Jews and Gentiles in Salt Lake where I lived for many years.
Now it's 2005 2006 2007 2008 2009 2010 2011 and I'm writing songs, and playing and recording again after a long stint as a business and technology writer and web weenie. (In 2008 it almost cost me my life to be so dedicated to this sedentary craft.)
Coughing up marketing poop for hi-tech clients and their precious overworked audiences has toned up my writing chops, paid off my bills, and hopefully sharpened my snout for what works and what doesn't when it comes to writing songs.
It's easier than ever to record at home, and I have more time to put into material development. As a result I'm woodshedding like a squirrel tearing up cones for the nuts inside and actually enjoying my own creativity for the first time in years. Which is all the reason I need to put it all on de web for easy download by anyone who wants to listen. I hope you enjoy it too.
Do I play clubs and bars or do "house concerts"? Sure. If you would like to host me for an evening of solo performance, just let me know. I promise to behave.
I support other musicians with more than lip service and ripped music. The Lapwai Lane Shredders Club is our killer "at home" music performance venue, which seats up to 50 enthusiastic listeners from around the Bitterroot valley where I live.
Here's a list of artists I have presented over the years in concert or at festivals in Utah and Montana in no particular order:
Carrie Elkin
Raina Rose
Anthony Da Costa
Ben Carroll
Ben Bedford
Richard Gilewitz
Mike & Tari Conroy
Mr. Awesome Himself James Morris Pearson
Jenn Adams
Lawrence Duncan
Gutpuppet
Storyhill
Alison Krauss
Alison Brown
Bela Fleck
Jerry Douglas
Battlefield Band
Mick Maloney
Brian Bowers
Del McCoury Band
Carla Sciaky
Catfish Keith
Cosy Sheridan
Chris Ayer
Dorian Michael
Front Range
Liz Carlisle & Russell Wolff
Laurie Lewis
Loose Ties
Matt Flinner
Michael McNevin
New Grass Revival
Hot Rize
Special Consensus
Tim O'Brien
Mark O'Connor
Geoff Bartley
Rory Block
Ed Gerhard
Bill Mize
Tony Rice
Wyatt Rice
Peter Ostroushko & Dean Magraw
Pat Donohue
Pierre Bensusan
Patty Larkin
Christine Lavin & the Bitchin' Babes
Harvey Reid
Michael Gulezian
Jesse Winchester
Bill Morrissey
Bill Staines
Tom Paxton
Clive Gregson & Christine Collister
Greg Brown
Chuck Pyle
T.R. Ritchie
Chris Proctor
Adrian Legg
Charles David Alexander
Tracy Moore
Michael Manring
Utah Phillips
Mark Ross
Doug Wintch
Vassar Clements
David Grisman
Darol Anger
Mike Marshall
Laurie Lewis
Cathy Fink & Marcy Marxer
Paul Boruff
Liz Carlisle
Russell Wolf
Christine Lavin
Cindy Mangsen & Steve Gillette
John McEuen
Lyle Lovett
Paul Boruff
Peppino D'Agostino
Dan Crary
Byron Berline
Zach Parrish
Paul Stowe
Trevor Morriss
Matching Ties
Saul Kaye
David Boone
Annabelle Chvostek
Justin Roth
Chris Cunningham
Kate MacLeod